WhatsApp now has grown to one of the most preferred choices of messaging and the launch of the Whatsapp businesses provides tremendous opportunities for the businesses to expand their boundaries to reach out to their targeted audience.
The study shows that the global e-commerce market will touch a height of around $16 billion by the year 2027 and at a compound annual growth rate (CAGR) of 22.9%.
Today businesses are under increasing pressure to be more efficient, provide better service, and offer a great experience to their customers. The only way to achieve this is with the Automation and it makes the business easier to deliver 
WhatsApp business empowers many brands to improve their customer experience and the API allows for one-to-one interaction with the customers at scale. 
The use of WhatsApp Bussiness reduces pressure on the pressure on customer service team and helps to increase sales and removes friction within the purchase process.
So let us see what exactly WhatsApp Bussiness is and how you can use it for your business.
What is the WhatsApp Business App?
The WhatsApp business is an application that allows organizations to securely and safely message their clients with the WhatsApp messaging platform for free of cost.
Earlier, companies used SMS for sending messages and offers regarding their products which is an outdated way of reaching to your customer. The thing that gives WhatsApp a business edge over SMS is that WhatsApp is directly tied to the phone number and also provides a branded business profile.
What is WhatsApp Business API?
The WhatsApp ecosystem is a complete package that consists of WhatsApp for private users, WhatsApp businesses, and the Whatsapp Bussiness API that offers a great solution for fast-growing businesses. 
WhatsApp Business API is a powerful tool for commerce and it is one of the most widely used tool by the small sacle to mid sacle bussinesses. The advantages of the Whatsapp business are as follows 
Reach: The WhatsApp is widely used by over 2 billion people all over the world.
Efficiency: It's much easier to reply to enquires through whatsapp rather than replying over text than phone or email.
Cost-Effective: Save your investment for call centers or CRM systems.
Happy customers: What more do customers want if you are going to be able to resolve their queries via something as simple and habitual as a WhatsApp message?
Automation: With WhatsApp templates and quick replies, you end up saving even more effort.
When should you use the WhatsApp Business API?
If you are running a company having a bit bigger size and there are lot of enquires coming to you regarding your products. It is very challenging to reply each and every enquiry on time and resolves their issues. 
To overcomes this problem you can use WhatsApp Bussiness API, where you can get various powerful e-commerce features which will help you to reply to each and every enquiry and keep your customers updated about your products pricings and other details.
Benefits of using a WhatsApp Business Account
There are various benefits of using a Whatsapp business account for your business and to keep your customers updated which are as follows 
1. Secured messages and data security 
Messages are encrypted from end to end and it means there is a secured exchange of sensitive information. 
WhatsApp Business provides end-to-end encryption on all chats offering utmost data privacy and security to its users. So all your data regarding your products and business remains safe and secure and you can use the Whatsapp business account without any problem.
2. Improved customer support
The Whatsapp business account will help you to get more customer engagement in two-way conversation which helps to effectively resolve all the issues of the customers and provide them all the information about your products on time.
3. International reach
WhatsApp boasts 2 billion monthly active users worldwide. It's one of the top instant messaging apps of our time with a growing user base. You can target and reach worldwide customers which will help you to expand your business internationally. 
4. High message open rates 
The open rate of WhatsApp messages is an incredible 99% compared to a meager 18% for email.
‍
WhatsApp CRM 
WhatsApp CRM is an powerful weapon which will enable real time collaboration with conversation labels and private notes and assign and re-assign chats for the better customer service.
WhatsApp can be integrated with many popular CRMs, including:
WhatsApp business core features offered by Interakt 
The various WhatsApp core features that are usually offered by Interakt are as follows 
WhatsApp CRM Integration allows you to send a catalogue, images, location, documents, audios, videos, and much more to potential customers and/or clients based on their latest communication with your team. This is a great way to move them down the sales funnel and increase your chances of conversion.
 Enable real-time team collaboration with conversation labels & private notes. Assign and re-assign chats for better customer service.
WhatsApp notifications campaign
The WhatsApp business feature will allow you to trigger the automated and the personalized messages in bulk to users and it helps businesses to connect with their potential customers and keep them updated regarding their products.
With the Interakt automated notifications feature, you can share both types of messages, such as personalized as well as bulk notifications messages to your customers and set up campaigns to trigger the customers.
Whatsapp Chat Widget 
Your marketing and customer care operations will be more smooth for your clients if you use WhatsApp chat with them.
‍
A WhatsApp Chat Link can help in the collection of phone numbers from consumers, resulting in increased lead generation and revenue. WhatsApp Links may generate a pre-written message for your website visitors to use to contact you.
‍
This means that a customer does not have to makemake any effort in order to interact with your company. 
The person do not have to save your mobile number in order to enquire about your bussiness and products. It is a very simple method to start an conversation with a consumer
 It's the simplest method to start a conversation with a consumer.The major advantage of utilising a click-to-chat Whatsapp widget is that a client may continue to communicate with your support or marketing staff even after leaving your website. Their Whatsapp chat is still going on.
WhatsApp Automation 
Whatsapp automation is one of the best features that allows to automate and manage the customer's expectations on WhatsApp and boost engagement.
You can set the custom replies for the frequently asked questions (FAQs) with the help of the custom auto-replies and quick to set up and easy to maintain.
The new customers are very curious to know more about your business and when they message you, they expect a quicker response from your end. You can send them an automated welcome message.
If there is any customer who will message you during the non-office hours, then the WhatsApp business account will automatically reply to the customer and reassure them that you will resolve their query when you get back.
How to integrate WhatsApp Commerce into your D2C Brand Store
Whatsapp Commerce can be activated on your D2C Brand Store with the help of Interakt.
Interakt is an Official Whatsapp Business API Provider. Interakt allows any kind of D2C Brand Store platform to integrate with it quite easily.
Currently supported integrations:
Shopify

Woocommerce
Google Sheets
Zoho CRm
They also have open APIs through which you can integrate any platform.
Process for Whatsapp Commerce Integration & Activation
Whatsapp Commerce integration is very simple.
Facebook Business Verification– In this you have to submit KYC docs of your business entity. Usually, Whatsapp team takes couple of days to give approval
Connect your Catalog – You have connect your catalog to Facebook Data Source. For shopify sellers, one click integration is available For rest, you have to follow simply integrate with Facebook.
Sync your Catalog- Once you are done with above two, then just simply sync the collections you want to show on whatsapp commerce
Just three simple steps are required to go live with WhatsApp Commerce
Build Chatbots 
WhatsApp chatbots enable you to handle your customers' problems in a steadfast and easy manner. The conversational marketing tool allows you to answer all queries of your customers and improve their experience. You should leverage the power of bots for your e-commerce website. Using WhatsApp chatbots, you can:
With the help of the WhatsApp chatbots you can communicate about the refund policy of your product and its return policy, you can also collect the feedback and the ratings on the overall shopping and the customer experience regarding your products.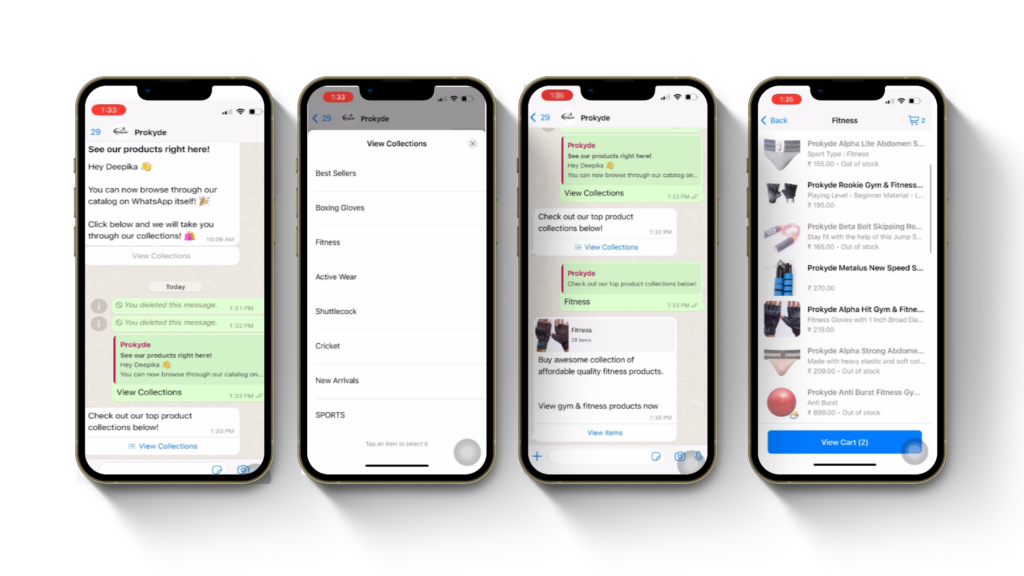 Display your products in a catalog 
With the help of WhatsApp Bussiness catalog you can directly display and sell your products to the customers in the chat itself. You can add up to 500 products in the Products catalog lists. 
When a customer clicks on your WhatsApp Business profile, they will first get some basic information on your company. When they scroll further down, they'll get to see your products
Embed a WhatsApp chat widget into your website 
The first step to to embed a WhatsApp chat widget. The second step is that, you can set up the Whatsapp Click To Chat link, which will enable your website traffic to initiate a Whatsapp chat with your business after clicking on it. the customers coming to your site will be redirected to their Whatsapp app or WhatsApp Web and can send a message to your WhatsApp API business number.
Integrating a WhatsApp chatbox to your e-commerce website will enable your visitors to initiate a WhatsApp conversation with your company. After clicking on the widget, they can post their queries over their WhatsApp account.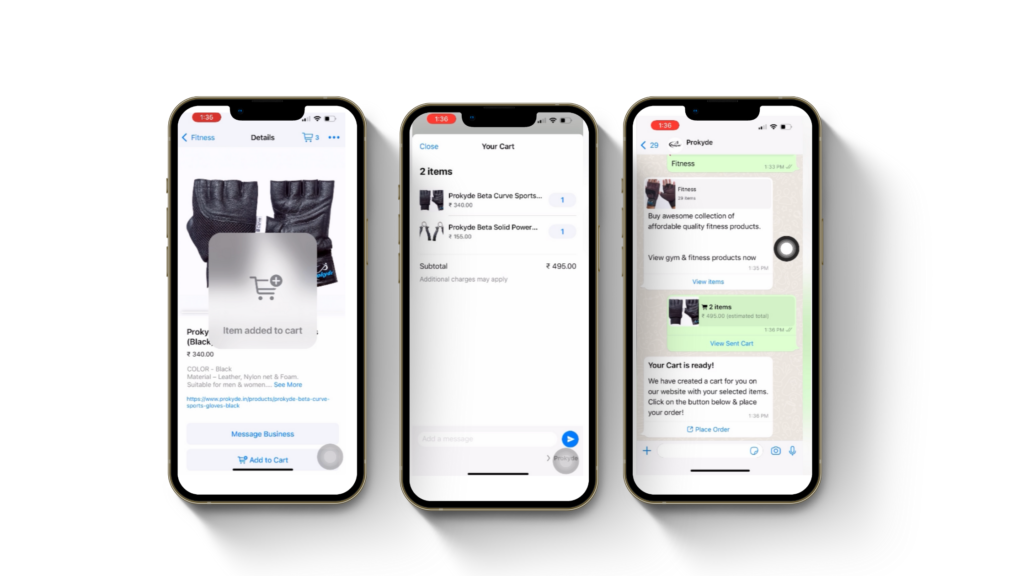 Order confirmation:
After customers place their orders, you can send the message of order details to avoid mistakes or confusion and thank them for shopping from you. You can also give payment information and, after confirmation of the payment, you can send automatic notifications.
Order cancellation:
If any customer will cancels the order for any reason then you can directly send message to the customer. the message will consists of the information regarding the cancelled product details and the amount that will be get refunded to the customer.
The customer will also get an confirmation message that the order canacellation is get acepted by the company and the customer will get their monney refunded within 3-4 days or whatsever the companys policy.
Send bills:
The Bills can be directly sent to the customers on their moblie number after confirmation and payment for their purchase.
Shipping confirmation: After dispatching the order(s), send your customers messages about the same to enable them to track the packages and remain available to receive it.