Businesses throughout the world have been adversely affected by this epidemic. As a result, customers have a whole new perspective on companies and the marketplace. Consumers have a strong preference for well-known brands and place a high value on factors such as cleanliness, hygiene, ease of use, quality, and safety.
Direct-to-consumer (D2C) brands are flourishing in today's market and making significant gains. Several well-known manufacturers, including LG, Havells and Piaggio, have adopted the D2C concept.
Companies throughout the world are moving toward direct-to-consumer (D2C) business models, eliminating the need for a middleman. Consumers will be able to contact these companies directly now that they have opened their own brick-and-mortar locations. D2C startups are thriving in India to a large extent. 
Many D2C businesses, including those in the home décor, fashion, and cosmetics, fast-moving consumer goods (FMCG), and electronics industries, have seen growth in recent years. We've compiled a list of the top 21 D2C brands in India in this post. What are we waiting for?
RENEE
Beauty brand RENEE Cosmetics was founded by Aashka Goradia Goble and Beardo co-Founders Ashutosh Valani and Priyank Shah. The company offers a wide selection of eye cosmetics, lip colours, skincare serums and highlighters. About 30 items are available from the brand in three different categories. RENEE's products may be found in more than 500 retail locations around the country, as well as on the major online marketplaces.
Naturals
As a matter of fact, you aren't alone. It's delicious. Those who have tried it and loved it are quick to praise its virtues. All Natural Ice Cream ice creams are made with fresh fruit pulp or dried fruit with no artificial flavours, additives or stabilisers.
In 1984, a 300-square-foot ice cream parlour opened in Juhu, a northwest Mumbai neighbourhood, and the brand has since become a household name. West and South India has 89 franchise shops, with 47 in Mumbai, 29 in the nearby metropolitan clusters of Navi Mumbai, Thane and Pune as well as the remainder in chosen cities in Maharashtra and neighbouring states. A further ten will be opened this year. There may be a slew of franchisees, but the manufacturing centre is a single location in Kandivali, a Mumbai neighbourhood. For each Natural location, a truck arrives every morning to provide fresh ice cream, guaranteeing that quality is never compromised.
Bare Anatomy
Gurugram-based Bare Anatomy's personalisation idea is aimed at revolutionising the hair and skincare niches. One-size-fits-all doesn't apply to this firm, which operates in a manner that distinguishes it apart from its competitors.
The creators of the individualised haircare and skincare company were inspired by the personalisation notion. A novel idea in the Indian consumer industry, personalisation focuses on each client individually and addresses their specific needs.
As a result of the global pandemic, the brand was unable to fully launch until the following year. The company's internet business strategy allowed it to withstand the strain. It is a staunch believer in internet retail as opposed to brick-and-mortar retail as a model. During the process of creating personalised products, the company first asks customers to complete a quiz and then develops algorithms and hardware based on the algorithm.
It received $500,000 in early investment from Sauce.vc, a consumer-focused venture capital fund. WebEngage's Startup Program was also crucial in helping the company grow and earn a variety of advantages in the process.
mCaffeine
Tarun Sharma and Vikas Lachhwani founded the mCaffeine brand in 2016 and have a catalogue of 55 caffeine-infused products, including soaps, shampoos, scrubs and oils. The company says it has a client base of more than 2.5 million and a presence in 18,000 different pin codes.
mCaffeine is a D2C beauty and personal care brand operating in a highly competitive market that has experienced an increase in investment opportunities since the pandemic.
The firm will be able to expand its operations to 12 nations thanks to the additional funding. The company's future objectives include the acquisition of smaller beauty-related firms in India and throughout the world to create a "house of brands."
Bombay Shaving Company 
The Bombay Shaving Company is a well-known D2C brand for men's grooming products. An important D2C brand in India is this. The Bombay Shaving Company is the first-ever personal care brand to meet all of the customers' needs all over the world in a single product offering. Shantanu Deshpande founded the company in 2016, and it is based in Delhi, NCR. Today, Bombay Shaving Company has over 2 million customers and a market capitalisation of $3.4 billion.
Mamaearth
It is safe to say that Mamaearth is a well-known brand with a devoted following. In order to take advantage of the growing demand for personal care products, Mamaearth made its presence known on e-commerce websites like Amazon, Flipkart, Firstcry, and Nykaa.
As a result, Mamaearth has built a sizable customer base as a result of its popular products. A threefold increase in Mamaearth's revenue has been recorded since the previous year's figures for 2019.
The Moms Co.
One of the best personal healthcare companies for moms around! Australian-certified toxin-free personal care products, such as those sold by The Moms Co. for use by moms, babies, and women postpartum, are available from the company. The company's products can be purchased online and in physical stores. And selling is its primary source of revenue, at a value of $6.5 billion, Moms Co.
Plum
Plum is an organic, multichannel clean beauty company based in the UK. Since consumers began shopping online, Plum has made a lot of money. By 2022, the brand's worth will be around $23 billion.
Plum's staff is now twice as large as it was before, and the company now serves more than 250 million customers each month.
Dot & Key
Dot & Key Wellness launched its website in 2018 with a pre-swim cream and 16 other offerings. It has now expanded its product line to include clay masks, face serums, underarm colour correcting lotion, and sleeping masks.
When Anisha Agarwal, who lives in Kolkata, searched the grocery shelves and couldn't locate a pre-swim skin lotion, she had an idea for a company.
As the owners of their family's real estate firm, the pair decided to start their own beauty brand with an initial expenditure of around Rs 3 crore.
She put on her thinking gear and investigated the concept for a year before deciding to act on it, coming from a business background. After eight months of development, she and her husband, Suyash Saraf, debuted their business after distributing surveys and samples to friends and family.
Wakefit 
Mattresses and other sleep-related items, such as pillows and comforters, are available through Wakefit. Raw materials are imported from Europe and the Middle East by this firm situated in Bengaluru, India.
More than 30,000 pin codes in the country received Wakefit's 4.5 million devices. The company's founders conducted video interviews with their first 100 clients in the early phases. Early comments helped them make improvements to their product's durability, packaging, and thickness.
Deliveries are made to all of India's towns and remote areas, including challenging terrains like Jammu and Kashmir. FedEx and City Xfer are among the delivery providers it has teamed up with. The most important factor in Wakefit's success has been word-of-mouth. Content marketing is also done by the corporation on the value of sleep and wellness.
Revenue from operations increased by Rs 2.6 crore as a result of the sale of scrap items; by the end of FY23, the firm hopes to generate sales of Rs 1,000 crore. A great deal of thought and effort has gone into the design of homes during this pandemic. As a result, the sleep and home furniture solutions startup has grown significantly. By the end of 2023, Wakefit has set a sales target of INR 10,000 crore, which is expected to reach 2019.
Wow Skin Science
Arvind Sokke and Ashwin Sokke, Manish Chowdhary, and Karan Chowdhary established Wow Skin Science, a well-known skincare pharmaceutical D2C brand. Wow, Skin Science has a $50 million dollar market capitalisation.
There are more than 5,000 Wow Skin Science outlets and pharmacies in India.
Sugar Cosmetics
SUGAR Cosmetics is one of the fastest-growing cosmetics and beauty firms in India, with a market capitalisation of $1 billion. Young Indian women between the ages of 18 and 25 are the target audience for the brand, which began in 2015. Product longevity is excellent in all weather situations, and the products are suitable for Indian skin tones.
Customers may purchase the company's products through stores such as Shoppers Stop, Lifestyle, Central, Health & Glow, and NewU. It establishes a vast distribution network by having more than 2,500 retail outlets in more than 130 cities.
The corporation established a foothold in Russia as well as in the United States, among other places. In addition to India, they have plans to grow their retail footprint in other nations as well. The brand's first products were a collection of matte crayon lipsticks and matte liquid eyeliner, which launched in 2012. The company then expanded its product range by including high pigment, long lasting, matte finish lipsticks and kajal to the lineup.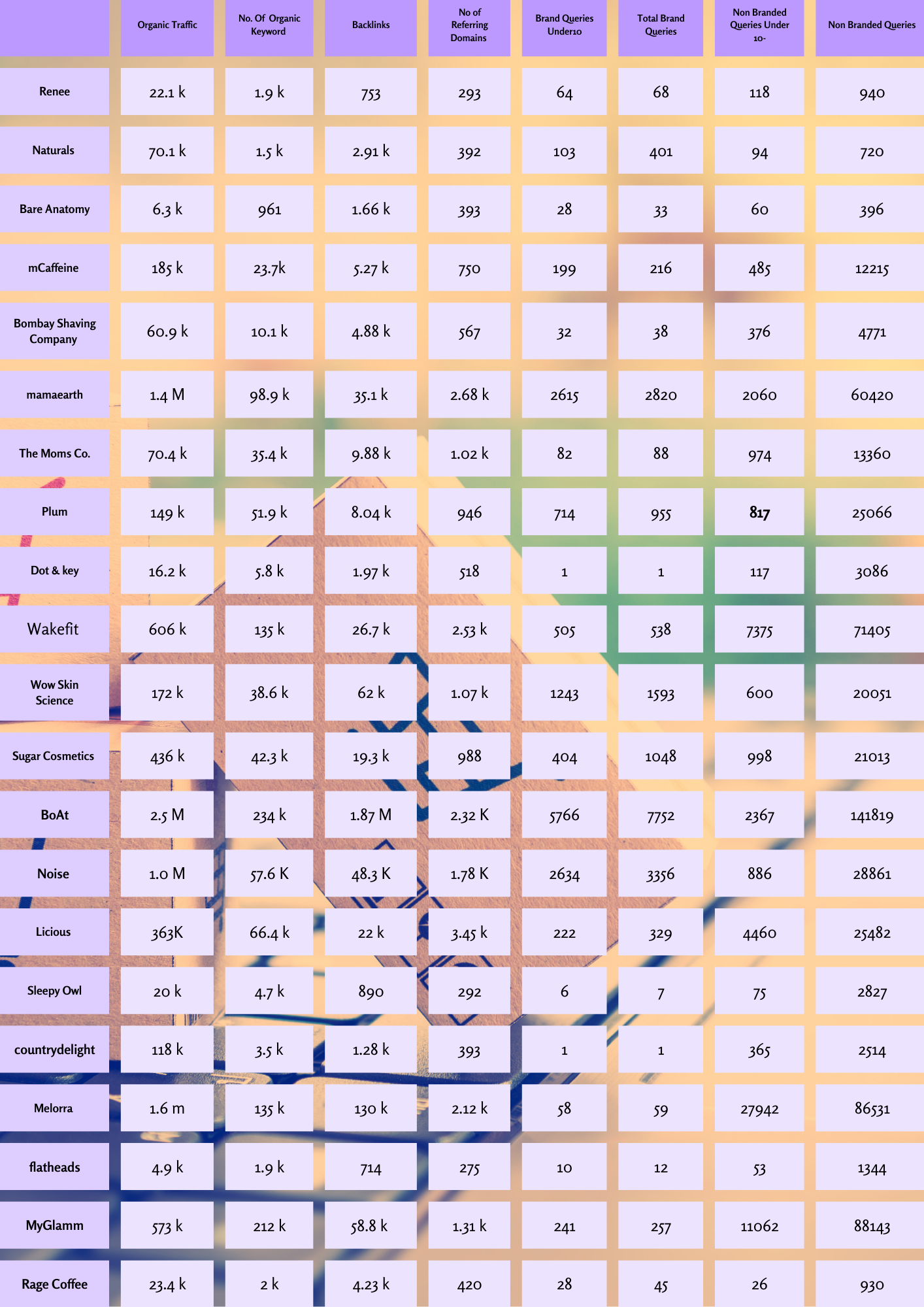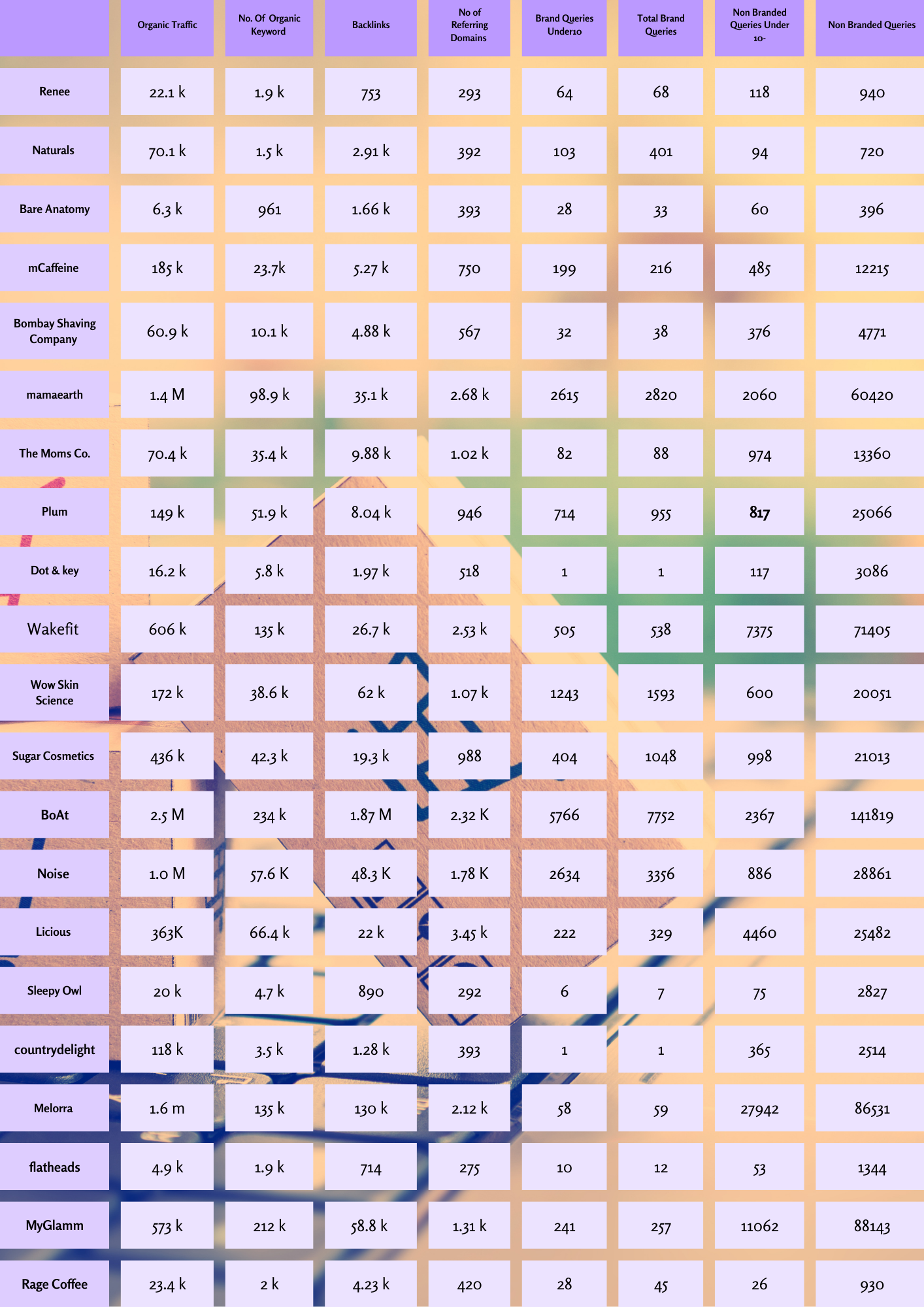 BoAt
Having a wonderful time while listening to good music is the most enjoyable way to treat oneself, and having a boAt gadget to do so is just the cherry on the top. This lifestyle brand presented us with consumer electronics devices that were reasonably priced, trendy, and of great quality. Aman Gupta and Sameer Mehta founded the company in 2016. As a lifestyle brand that trades in trendy consumer electronics, BoAt has positioned itself as such. The goal was to provide millennials with audio goods and accessories that were inexpensive, long-lasting, and trendy.
E-commerce sites like Amazon and Flipkart are used by BoAt to offer their items to customers. BoAt collaborated with offline retailing outlets such as Croma to target consumers who live offline. Its offline business amounts to 20% of total revenues for the time being. (worth Rs 100 crore).
Ambassadors from two of India's most renowned industries, Bollywood and cricket, were welcomed onboard the boat. By hiring these celebrities as influencers, the corporation is able to increase brand recognition in smaller towns. They now have over 5,000 retail outlets, which 20 distributors service. Since its inception, it has sold 10,000 devices per day, 4 million units per year.
Noise
When Noise first started out, it sold smartphone covers since the entrepreneur saw the smartphone revolution. The covers for smartphones were created in collaboration with Chinese producers, and they were marketed in India by the pair.
Noise has moved to wearable gadgets and wireless headsets as well. They were one of the first firms in India to provide wireless earphones dubbed NOISE SHOTS. The goal is to establish a well-known native consumer technology brand that will sell both inside and outside of India.
Noise targets urban youngsters between the ages of 18 and 34 as early users of technology. Their offline retail model has garnered a great reception. In seven months of its offline inception, the category has contributed 10 per cent of the entire sales. Aiming to achieve annual net sales of Rs 500 crore by 2022, the firm is trying to form strategic partnerships with significant retail outlets.
Licious 
One of the most popular meats and seafood d2c brands, Licious is known for its high-quality fish, egg products, and meat. The firm operates on a farm-to-fork strategy and provides its consumers with the best and freshest meat and seafood available.
One million orders are placed every month by the company Licious, which has over 3500 workers. It has more than a million customers.
Sleepy Owl
Founded in 2012, Sleepy Owl is a cold-brew coffee company that caters to India's growing demand for brewed and gourmet coffee. Ground coffee beans are soaked in water at room temperature instead of being heated as in the typical brewing method.
Taste and flavour can only be extracted after a minimum of 12 hours of steeping in cold water. Chikmagalur, Karnataka, is where the company gets its coffee beans. The 1.5-litre and 600-milliliter very smooth black coffee boxes were Sleepy owl's first products on the market. The product's pricing ranges from Rs 300 to Rs 600, depending on where you buy it. They say they serve 60,000 consumers and ship 8,000 packages every week; they've been around for almost a decade. Some 40 per cent of their business comes from over 1,000 retail shops in Delhi and Mumbai. The majority of sales come from the company's website and Amazon.com.
Country Delight 
In our Indian culture, we expect fresh milk to be delivered to our doorsteps, yet the quality of milk we receive is much below our expectations. Country Delight guarantees that customers will receive fresh, pure milk right at their homes.
Country Delight pays a premium to the farmer for their milk, establishing a direct relationship. Ethical procurement standards are adhered to by engaging in cold storage facilities and quality testing facilities at the farm. By paying farmers early than their rivals, this strategy enhances their working capital cycle. Individuals with modest incomes who work part-time for supply fulfilment are partnered with the firm.
Melorra
Jewellery is reserved for important events, such as weddings and other family celebrations in India. These gorgeous gifts spend most of their time in lockers once the wedding is finished. However, today's young women want jewellery that can be worn every day, from the office to a night out with friends. Sadly, a number of well-known jewellery manufacturers only produce traditional pieces for a select few occasions.
That's when Saroja Yeramilli came up with Melorra, a lightweight jewellery brand, to fill this vacuum in the market. Everyday wear jewellery by Melorra, a Bengaluru-based company, is available for less than Rs. 50,000.
MyGlamm
More lately, MyGlamm has decided to go with the most exciting method of expanding its clientele. The lifestyle content platform POPxo has been used to increase digital reach and build a 3C funnel for the company's content marketing efforts.
It has more than 2 million active users now. As a result of MyGlamm's focus on women between the ages of 16 and 25, the company's revenues have increased to INR 200 Crore.
Rage Coffee
Innovative products for the Indian coffee industry are being offered by various businesses. Traditionally, India has been a nation of tea drinkers, but this has changed over time as instant coffee has become increasingly popular.
Rage Coffee, which was formed in 2018, provides a variety of vegan-friendly, nutrient richcoffee flavours, which is one of the reasons for the company's rapid growth.
Its goal is to become the category leader by increasing its customer base through increased brand recognition, more customer involvement, and increased innovation in the production and distribution process.
Raising $5 million in a Series A fundraising round in August of last year, Rage Coffee plans to increase its local and online presence.
Conclusion
Direct-to-consumer (D2C) firms now enjoy enormous success and customer loyalty. Contrary to traditional networks, D2C firms are gaining traction by removing the middleman and delivering their products straight to customers.
With evolution in whole E-commerce Ecosystem, D2C Brands are bound to rise and shine in India.
Digital Triangle Provides Consultancy to various small and big D2C Brands. Feel free to contact us if you need any kind of help.