In today's world, the digital landscape is constantly evolving, and businesses need to adapt to stay ahead of the curve. One of the most effective ways to do this is through Direct-to-Consumer (D2C) marketing, which allows brands to reach consumers directly without the need for intermediaries.
With D2C marketing, businesses can control their brand message, engage with customers, and gather valuable data to inform their marketing strategies. However, navigating the world of digital marketing can be overwhelming, especially for those new to the field.
That's why this comprehensive guide to D2C digital marketing has been created, providing you with everything you need to know to successfully market your brand online. From understanding your target audience to developing a solid social media strategy, this guide will walk you through every step of the process, so you can confidently take your brand's digital marketing efforts to the next level.
What is a D2C Brand?
A D2C brand is a business model where the manufacturer sells its products or services directly to consumers without intermediaries. They use digital marketing channels to promote their products, target specific demographics, and gather valuable data on their customers.
D2C brands offer lower prices, maintain high quality and customer satisfaction, and build lasting relationships with their customers.
The Rise of D2C Brands
D2C brands are on the rise as consumers become more comfortable with making purchases directly from brands. This trend is being driven by a number of factors, including the desire for more transparency and control over the purchase process, the growth of social media, and the increasing popularity of subscription models.
Direct-to-consumer (D2C) brands are those that sell their products directly to consumers, without going through any middlemen. This allows them to offer lower prices and often a better customer experience.
The Rise of D2C Brands Has Been Driven By several factors, including:
D2C allows brands to build a direct relationship with their customers, which can lead to increased customer loyalty and lifetime value.
By selling directly to consumers, D2C brands can offer lower prices than their traditional retail counterparts, making their products more accessible to a wider audience.
Digital marketing channels such as social media and email allow D2C brands to target specific demographics and create highly personalized marketing campaigns that resonate with their audience.
D2C brands can gather valuable data on their customers, enabling them to develop new products, improve existing ones, and tailor their marketing strategies to better meet their customers' needs.
D2C brands have the advantage of being able to control the entire customer experience, from product development to marketing to post-purchase support. This can lead to higher levels of customer satisfaction and a more loyal customer base.
Advances in technology and data analytics make it easier for D2C brands to scale their operations and reach new customers while keeping costs low and maintaining high levels of quality and customer satisfaction.
The History and Evolution of D2C
The Direct to consumer (D2C) industry has seen rapid growth over the past few years, with many companies realizing the potential of this new form of communication. D2C is particularly well-suited for customer engagement and sales processes that require quick and easy communication between customers and businesses.
The history of D2C can be traced back to the early days of the internet when online retailers began using email as their primary way of communicating with customers. This system was very successful, allowing businesses to maintain contact with their customers without having to face the burden of physical shipping costs. However, email had its limitations: it was slow and difficult to use, making it unsuitable for more complex transactions.
In 1996, Michael Scott developed the first version of what is now known as Salesforce CRM. CRM was designed as a platform for managing sales processes and interactions between employees and customers. CRM quickly became popular among small business owners, due in part to its simplicity and user-friendly interface.
CRM systems remained relatively unchanged until 2007 when Microsoft released its own version of CRM called Dynamics CRM. Dynamics CRM marked a major turning point in the history of D2C; it offered features that were previously unavailable in traditional CRMs such as support for automated customer relationship management (CRM) software such as Oracle's Sales Cloud and Salesforce's Chatter. This increased flexibility allowed businesses to manage their customer relationships.
Why is D2C so popular in India?
D2C is gaining popularity in India due to the following reasons:
Increasing internet and smartphone penetration has made it easier for D2C brands to reach a wider audience and sell their products online.
D2C allows brands to control the entire customer experience, from product development to marketing to post-purchase support, which is particularly important in India where customer satisfaction is highly valued.
Indian consumers are becoming more price-conscious, and D2C brands can offer lower prices than traditional retail counterparts by cutting out intermediaries.
With the rise of social media influencers, D2C brands can leverage their popularity to promote their products and reach a wider audience.
The COVID-19 pandemic has accelerated the shift towards e-commerce in India, making D2C a viable business model for many brands.
D2C brands can offer unique, niche products that are not readily available in traditional retail stores, catering to the growing demand for personalized and customized products.
Overall, these factors are driving the growth of D2C in India, making it an attractive business model for brands looking to reach a wider audience, offer lower prices, and provide a unique and personalized customer experience.
Pros and Cons of the D2C Model
There are many different ways for companies to reach their consumers, and the direct-to-consumer (D2C) model is one option that is becoming increasingly popular. In a D2C model, companies bypass traditional channels like retailers or wholesalers and instead sell directly to consumers through their channels. This can be done through a company website, online marketplaces, or even brick-and-mortar stores.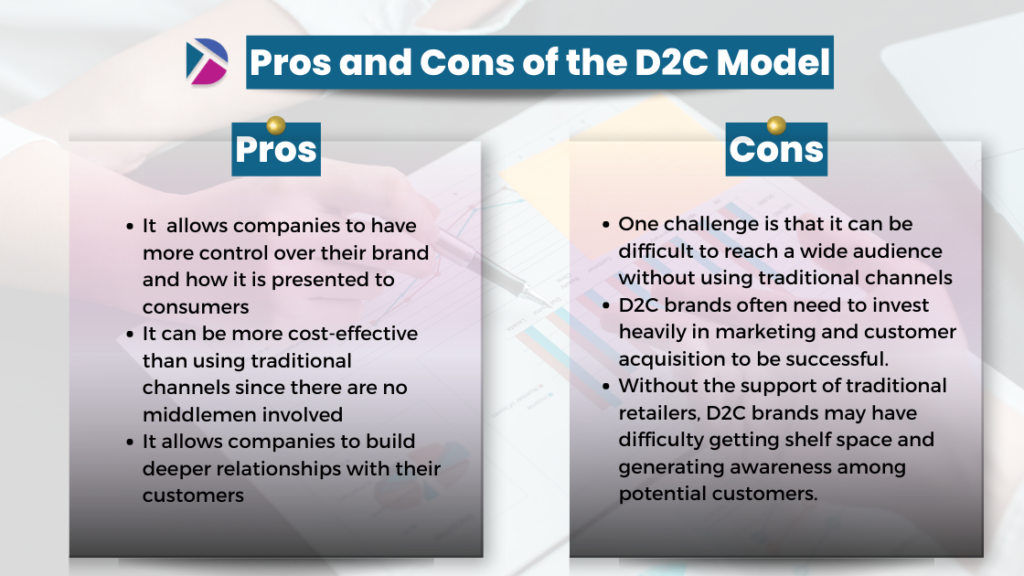 Overall, there are pros and cons to using a D2C model. It can be a great way for companies to have more control over their brand and build deeper relationships with customers. However, it can also be challenging to reach a wide audience and may require significant investment in marketing.
Different Types of D2C Models
D2C models are becoming increasingly popular as a way for brands to connect with their customers and sell directly to them. This type of model allows brands to have more control over their pricing, product development, and marketing, which can result in a better customer experience and more loyal customers.
There are four different types of D2C models: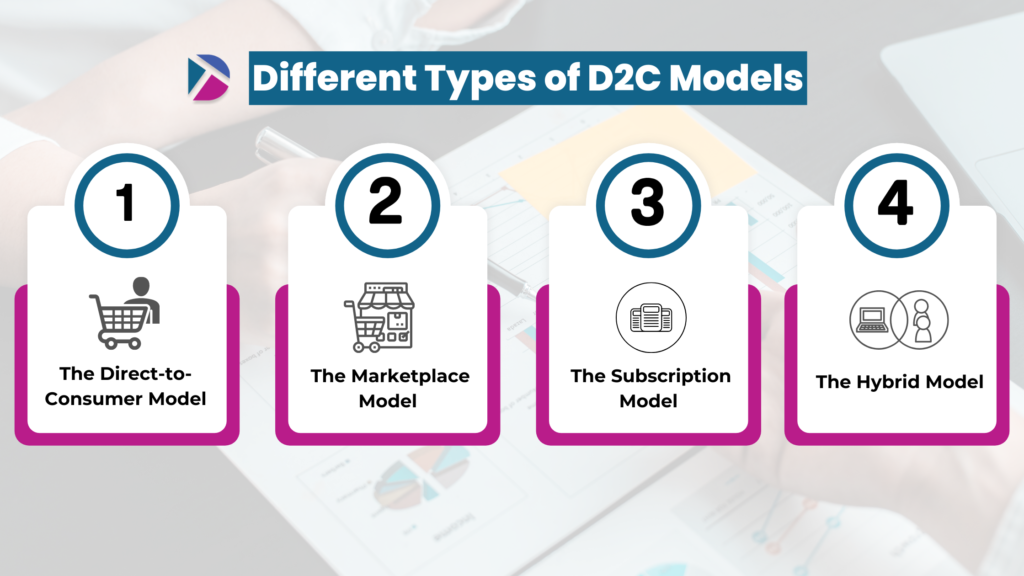 1. The Direct-to-Consumer Model
In this type of model, the company sells its products directly to consumers through its own channels, without going through any intermediaries. This type of model allows the company to have complete control over its pricing, product offering, and customer experience.
2. The Marketplace Model
In this type of model, the company sells its products through an online marketplace, such as Amazon or eBay. The company has less control over pricing and product offering in this type of model, but it can reach a larger audience of potential customers.
3. The Subscription Model
In this type of model, the company sells its products on a subscription basis, such as through a monthly or annual subscription. This type of model allows the company to have a recurring revenue stream and to build up a loyal customer base.
4. The Hybrid Model
In this type of model, the company uses a combination of the direct-to-consumer and marketplace models. This type of model allows the company to reach a wide audience of potential customers while still having some control over pricing and product offering.
5 Amazing D2C Brands Which Rocked The World In 2022
Atomberg
Atomberg is a D2C-based energy efficiency startup that has developed a line of smart fans that use less energy than traditional fans. The company was founded in 2013 by Manoj Meena and Ankit Jain, and it has raised $4 million in funding from investors including Kirloskar Group, Omidyar Network, and Accel Partners. Atomberg's products are available in India and the United States, and the company has plans to expand to other markets.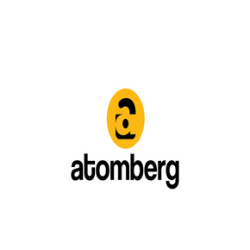 BoAt
If you're looking for quality audio accessories, then boAt is the brand for you. The company offers a wide range of products including headphones, earphones, and speakers. And, their products are known for their great sound quality and stylish designs.
In addition to its great products, boAt also offers excellent customer service. If you have any questions or problems with your purchase, they'll be more than happy to help you out.
So, if you're in the market for some new audio gear, be sure to check out boAt. You won't be disappointed.
Chaayos
Chaayos is an Indian tea chain that was started in 2012. It has more than 100 outlets in India and abroad. The company serves more than 50 varieties of tea and snacks.
The company has received several awards and recognition including the prestigious National Award for Excellence in Retail by the Ministry of Commerce and Industry, India.
Chaayos strives to provide the best customer experience with its unique blend of tea and hospitality. The company has a team of passionate individuals who are dedicated to making every cup of tea perfect for each customer.
Mamaearth
Mamaearth is a brand that is quickly making a name for itself in the D2C area. The company specializes in all-natural and organic baby and toddler products. Mamaearth's mission is to provide families with the highest quality products possible, made with only the finest ingredients.
The company was founded by two moms who were passionate about creating safe, natural products for their own children. Mamaearth's product line includes everything from skincare and hair care to feeding and bath time essentials. If you're looking for an all-natural, eco-friendly, and socially responsible brand, then Mamaearth is one to check out!
mCaffeine
mCaffeine is a D2C-based startup that is shaking up the world of caffeinated products. The company has developed a unique process for extracting caffeine from coffee beans, which results in a more potent and sustainable product. mCaffeine's flagship product is "Nitro Coffee", a cold-brewed coffee that is infused with nitrogen gas. This gives the coffee a creamy texture and makes it easier to drink. The company has also developed other caffeinated products, such as "Buzz Bites", which are bite-sized energy snacks that are perfect for the on-the-go.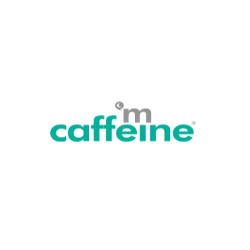 Conclusion
Building and scaling a D2C brand can be a challenging task, but with the right strategies and tools, it can also be incredibly rewarding. Throughout this guide, we have provided comprehensive information about all aspects of D2C brands, from creating a brand identity to developing a successful marketing strategy. By following these steps and incorporating them into your own business plan, you can create a strong foundation for your D2C brand and set yourself up for success. Remember to stay focused on your goals, consistently evaluate your progress, and adapt as necessary to keep up with the ever-changing business landscape. With dedication and hard work, you can build and scale a thriving D2C brand that stands out in today's competitive market.